Serves : 12 portions
500g Northern Spy apples, peeled, cored and sliced
50g sugar mixed with a little ground cinnamon
For the Batter
80g butter, softened
160g caster sugar
1 organic lemon, zest grated
2 eggs
100g cornflour
100g plain flour
3 teaspoons baking powder
125ml milk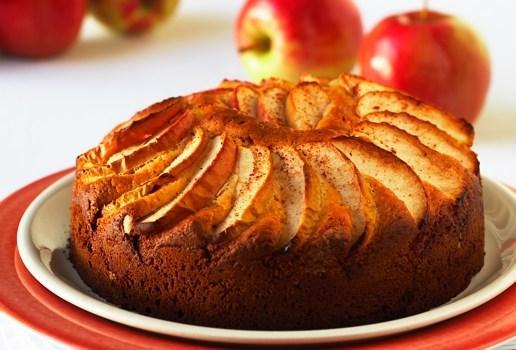 Prep: 25min › Cook:45min › Extra time:10min cooling › Ready in: 1hr20min
Layer apples in the bottom of a round silicone cake tin (or a spring form tin lined with foil).
Sprinkle cinnamon sugar over the apples and set aside for a few minutes.
Preheat oven to 160 C / Gas 2 1/2.
Mix all the batter ingredients together and use to cover the apples. Bake in preheated oven for about 45 minutes.
Let cool in tin for 10 minutes, then invert cake and remove tin.