State-of-the-Art Facilities
Bay Growers is centrally located within 10 kilometers of each of our member/owners orchards, allowing for reduced shipping costs and a reduced carbon footprint.
The storage facility is constructed of heavily insulated concrete panels, making the building very efficient from a heat/cold loss standpoint.The fact that there is virtually no wood in the construction, gives the building a much longer "shelf life" than traditional apple storages.
Our packing facility was the first in Eastern North America to utilize a pre-sort system, which very recently has been upgraded to total defect sorting technology, again a first in eastern North America. This process includes multiple photo's to pick out even the slightest imperfections on the fruit we are packing for discerning customers, all done without being touched by human hands. The fruit then goes through various pack line systems to be delivered to our customers following regimented just in time procedure, to deliver the freshest, best tasting, local, apples possible.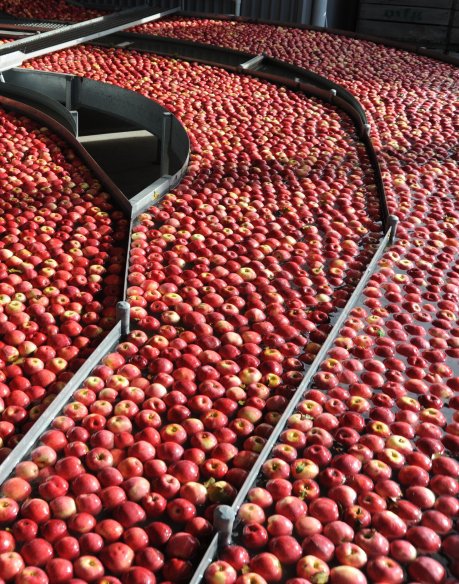 We Are A Certified Company
We are a federally inspected plant by CFIA with a RPW (Registered Produce Warehouse) # 313, which appears on all our packaging. We also have a BRC (British Retail Consortium) Food Safety certificate # GB 84921. BRC qualifies as a GFSI 2010 (global food safety initiative) approved designation which allows Bay Growers to ship apples anywhere, to anyone in the world. BRC is only 1 of only a few designations recognized around the world. We are certified as an Organic packer and shipper certified by Pro-Cert. We also under go independent audits by individual customers on a regular basis.